This is the best and easiest chicken seasoning mix. Made with quality organic ingredients, this chicken seasoning is ideal to have on hand to season chicken breasts, wings, thighs, legs, and more!
This blend has many of the same ingredients that go well on not only chicken but beef roasts, salmon fillets, roasted potatoes, and other veggies. 
I first made this seasoning mix when I made my Kale and chicken salad and chicken salad. I used it to season the chicken before adding it to the salad. My nephew looooves chicken and asked to eat some of the chicken before I finished making my meal and has been in love with this seasoning mix ever since. He has asked for it on his baked chicken almost every time. #proudauntiemoment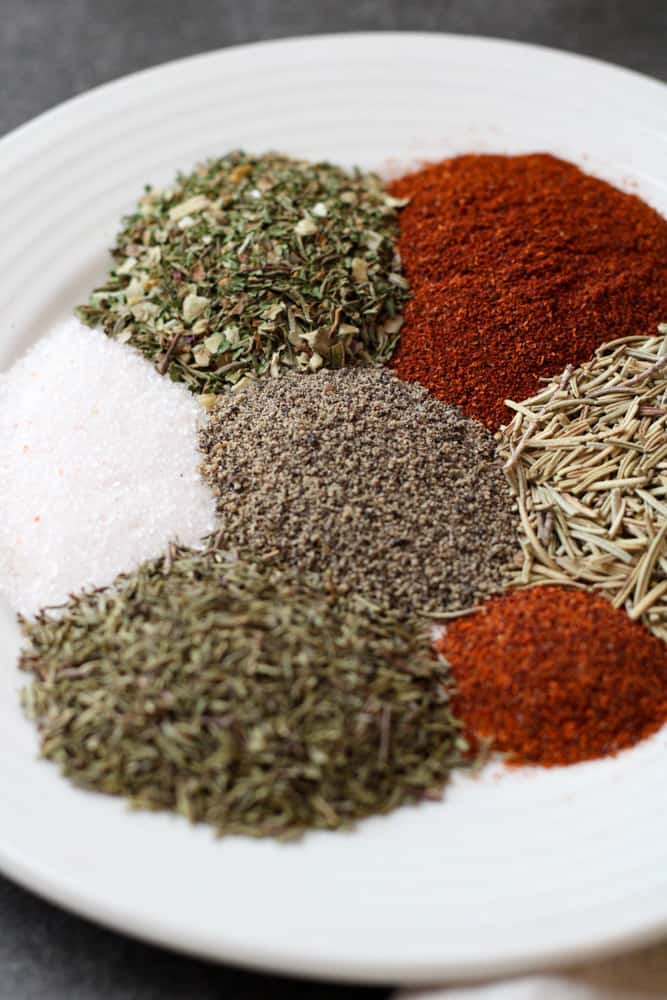 The great thing about this homemade poultry seasoning is that it uses herbs and spices you probably already have in your spice cabinet- like dried thyme, rosemary, cayenne pepper, and ground paprika. 
Instead of reaching for a premade spice blend that has questionable ingredients, artificial flavors, additives, and who knows what else, make your own spice blend with real flavorful ingredients. 
Why make homemade seasoning?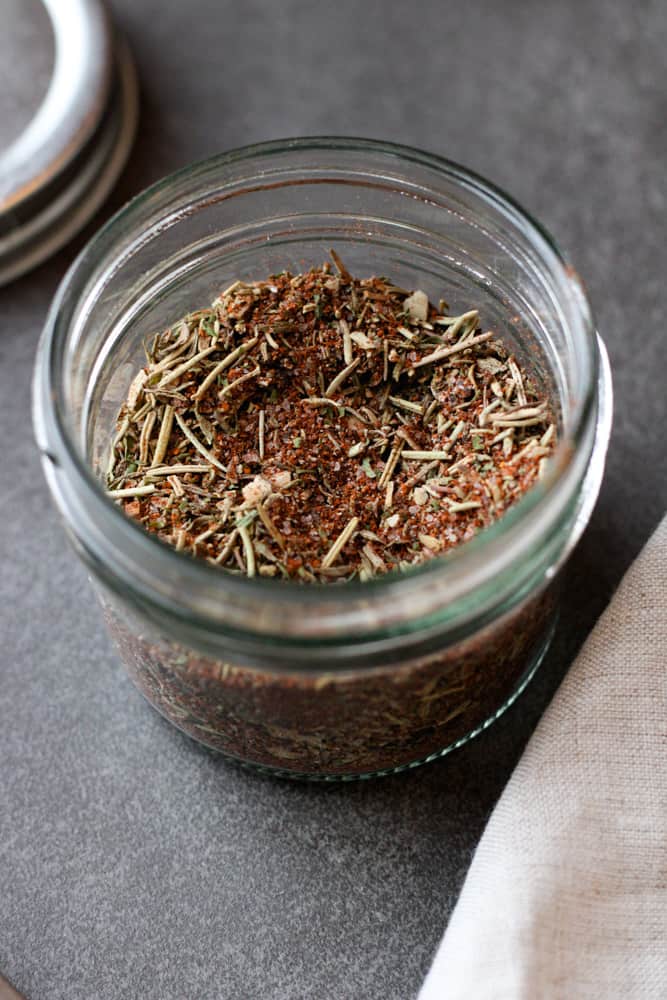 There are many reasons why you would want to make your own seasoning blends. Here are a few big ones — 
Quality control
This one is my favorite. You want to choose fresh and quality ingredients for your spice blends. Organic and/or Non-GMO ingredients usually taste muuuuch better and have a fresher taste. 
Customizable
This is another big one, you can choose how much of a certain spice you want to add. If you prefer a salty or spicy blend – go for it! Add sugar, or any of your favorite herbs and spice to this blend as you see fit. That's the beauty of making things yourself because you are the master chef of your spice blend!
Make-ahead recipe
If you are right in the middle of cooking you may not want to stop and grab all the seasonings you want to use. Rather than reaching for a storebought seasoning mix make this easy chicken seasoning mix ahead of time for moments like these. 
This post may contain affiliate links, which means I'll receive a commission if you purchase through my links, at no extra cost to you. Please read the full disclosure here.
What you need to make this DIY chicken seasoning rub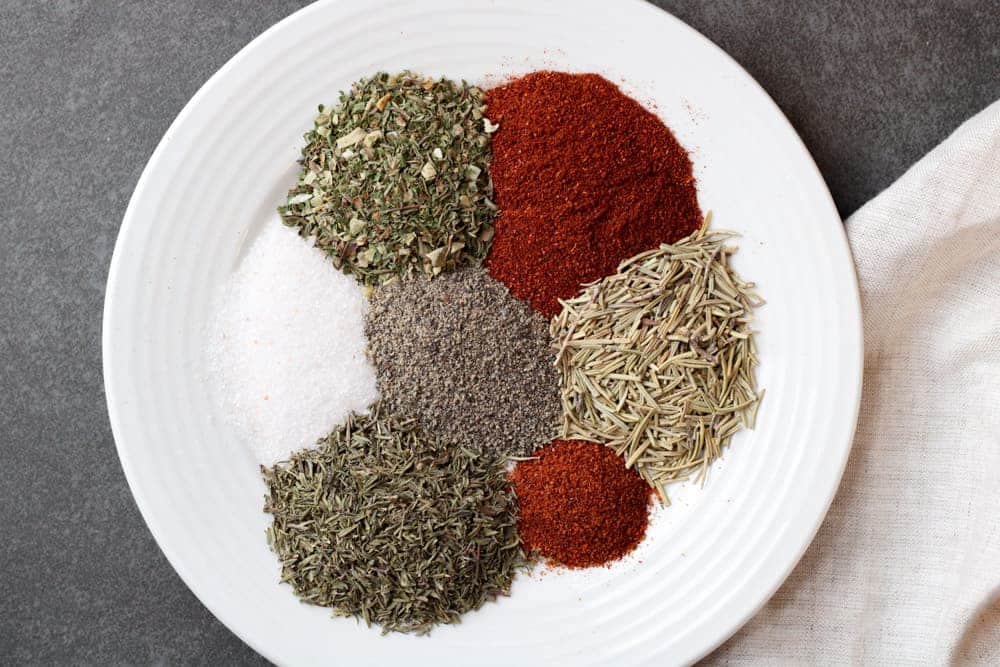 Everything is organic and/or Non-GMO for the best flavor. 
Ground paprika – Gives a subtly smoky and sweet flavor while giving a nice red color. 
All-purpose seasoning – My holy grail seasoning, it is a mix of lemon peel, dried rosemary thyme, rosemary, parsley, and basil. I got my whole family to love it as well! I love this one by Frontier CO-OP or this one by Simply Organic, both are great just depends on what I can find in stores or online at the time. 
If you don't have it, add ¼ tsp dried basil, ¼ tsp parsley, and a bit more dried thyme and rosemary to this spice mix and you're good to go!
Salt – Just a little bit for seasoning. 
Black pepper– Freshly ground black pepper has a stronger and better flavor. I like to buy the peppercorns in bulk and then grind them as needed in my pepper grinder.
Dried thyme – My go-to spice for seasoning chicken. 
Dried rosemary – Another automatic go-to seasoning. 
Cayenne pepper – Just a bit for a subtle kick of heat. 
How to season chicken
Step one: Rinse and pat dry your chicken.
Step two: Rub with a little bit of vegetable oil to help the seasoning stick better. 
Step three: Sprinkle 1 tablespoon of this homemade seasoning mix over the chicken. Rub until it evenly covers the chicken. 
Step four: Cook using your favorite cooking method.
Variations
Other amazing herbs and spices that go great with chicken are:
– Ground cumin 
– Dried basil 
– Dried oregano
– Red pepper flakes
– Ground ginger
– Brown sugar, if you want a sweet flavor
– Onion and garlic powder
– Or chili powder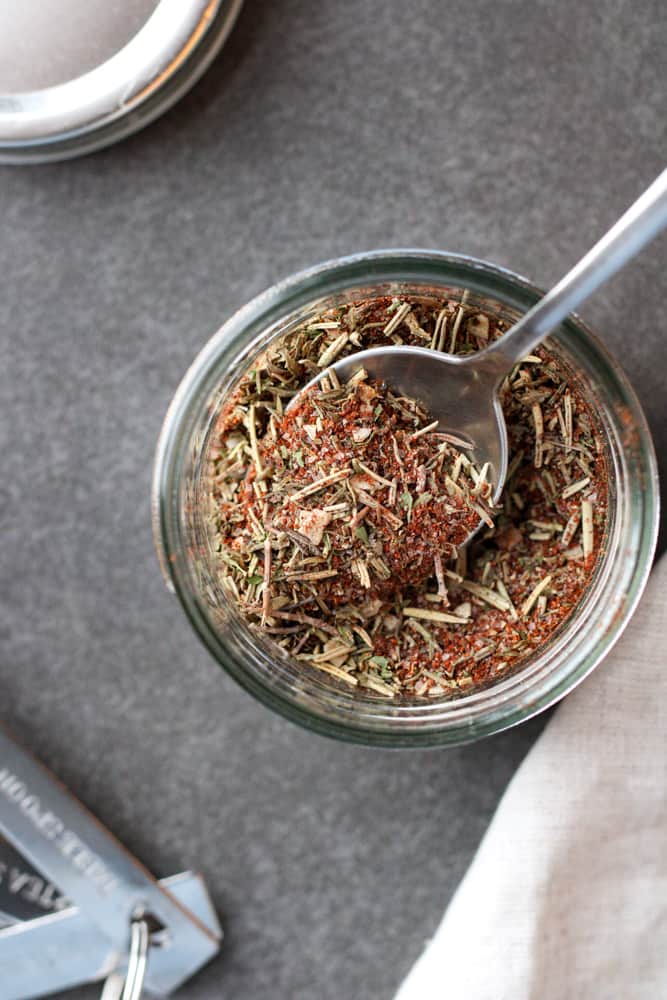 Kitchen Items You Might Need For This Recipe
Measuring spoons (similar)
Spice jars to store the seasoning mix. 
Frequently Asked Questions  —
What spices pair well with chicken?
Almost any spice goes well with chicken – ground cumin, ginger, ground paprika, onion powder, garlic, powder, or cayenne pepper.
What are the best herbs to season chicken? 
Dried rosemary, thyme, and oregano are my automatic go-to herbs for seasoning chicken. Others would be basil, parsley, or za'atar.
Looking For More Recipes?
Homemade Breakfast Sausage Seasoning Mix (No Sugar)
Scratch Kitchen Essentials – Herbs and Spices
Beef Breakfast Sausage Patties
Chicken Kale Salad (This recipe uses this Chicken Seasoning Mix)
If you love this Easy Chicken Seasoning Mix (No Sugar) recipe, share it on Instagram by tagging me (@themidwestkitchenblog) or giving this recipe a star rating. 
Have a blessed day!
Print
The Best Chicken Seasoning (No Sugar)
---
Description
This is the best and easiest chicken seasoning mix. Made with quality organic ingredients, this chicken seasoning is ideal to have on hand to season chicken breasts, wings, thighs, legs, and more!
---
---
Instructions
Mix all the ingredients together in a bowl. 

Transfer to an air-tight container.

Use as needed, enjoy!
---
Notes
Yields 1/4 cup.
Use roughly 1 tablespoon per pound of meat.
There's salt in this recipe so be mindful of that before adding any other seasonings or salt to your meal.
Keywords: chicken seasoning, chicken spice blend, no sugar seasoning, no sugar recipe, spice blend, diy spice blend
Recipe Card powered by